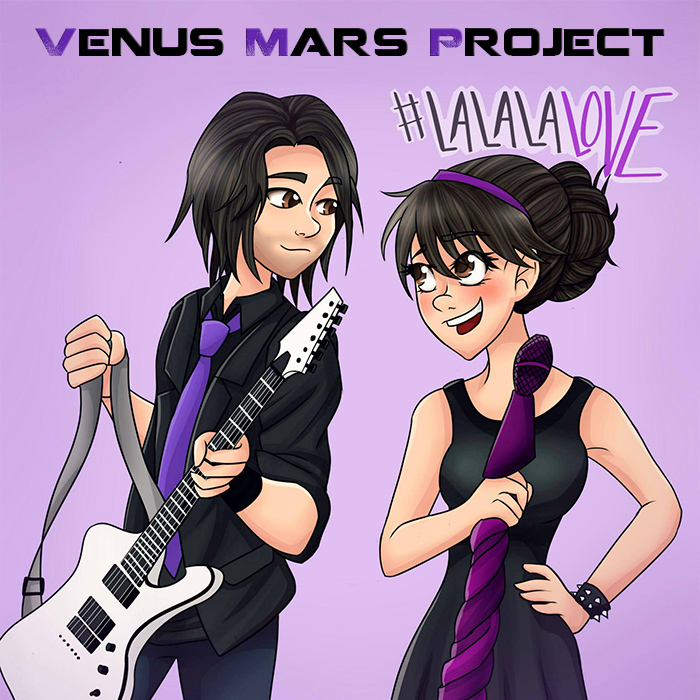 Pop/Rock Duo, Venus Mars Project, Releases New Song, #LaLaLaLove
BOSTON, MA | AUGUST 04, 2015
Pop/rock sensations, Jacyn Tremblay and Peter Tentindo of Venus Mars Project, have once again worked their dual magic in their new release, #LaLaLaLove, available on iTunes, Google Play, and Amazon.
#LaLaLaLove, produced by renowned producer/songwriter Anthony Resta, who has worked with legendary artists such as Elton John, Collective Soul, and Duran Duran, is an edgy song about the reckless and whimsical feeling of falling in love.
"What a thrill it is to find the rare combination of seasoned professionalism and youthful exuberance all in one package," says Resta. "Creating music with Jacyn and Peter was all that and so much more. The outcome was equally thrilling. Great chemistry here. – Anthony Resta"
Influenced by the classic rock edge and a modern pop sensibility, Tremblay and Tentindo have come together from their respective sonic realms to create a truly unique and thought-provoking musical experience with the Venus Mars Project.
Tremblay and Tentindo, both natives of Danvers, Massachusetts, first met when cast together in an original rock horror musical, Scary Mary and the Audio Corsette, for Salem's dynamic Halloween season of Haunted Happenings. Their serendipitous connection sparked a musical relationship that combines the rawness and unpredictability of the rock world with the glossiness and catchy hooks of the pop world.
Tremblay, a singer/songwriter, is best known as a member of the Boston-based female pop/r&b vocal quartet, Jada, which, at one point, was signed with Universal Motown Records and saw several international hit singles.
Tentindo is a professional guitarist, singer/songwriter, session musician, and teacher, who has opened for nationally respected acts like Alice Cooper, Heaven & Hell, and Queensryche, and was the backing band leader for Jimi Jamison (former lead singer of Survivor.)
"Venus Mars Project is a natural progression for us as artists and a culmination of our respective musical experiences," says Tremblay. "For us, it's all about the love of our craft, the unwavering dedication and passion we have for making music, and the joy we bring to others by living our own joy. It's a special kind of bliss."
Jordan Rich, radio talk show host at WBZ Radio of Boston, enthusiastically sums up the relentless appetite that Venus Mars Project has for creating and performing music: "Peter and Jacyn have what it takes – superb musicianship and tremendous passion. One really gets the feeling that they're having a blast. And guess what? They are."
Venus Mars Project is hard at work on new material to release in 2015. They are slated to perform at several premier venues around Boston and across New England. By year end, they plan to begin showcasing for record labels and private investors. Follow Venus Mars Project on Facebook, Twitter, YouTube,Instagram and Google+ and listen to all their hit singles – "Not Gonna Stop Me Now", "Jump In", and "Hands of Time" – on their official website at venusmarsproject.com. #LaLaLaLove is available to purchase on iTunes, Google Play, and Amazon.