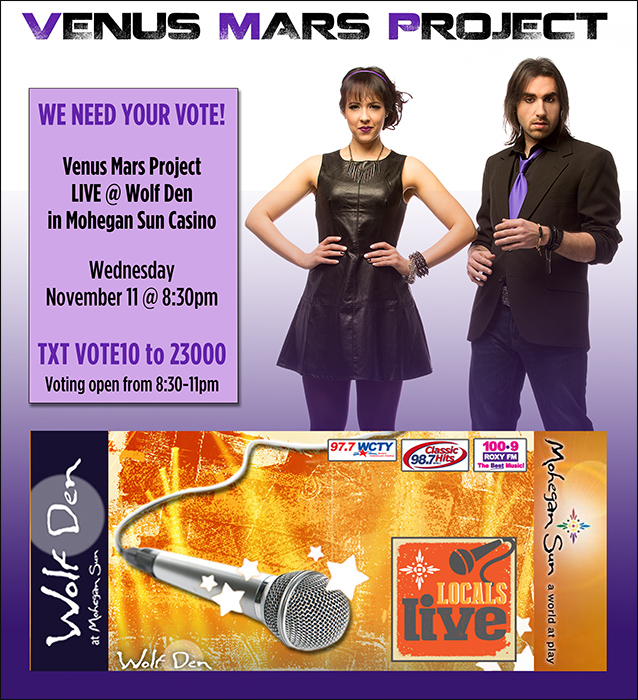 Venus Mars Project LIVE at Mohegan Sun's Wolf Den's "Locals Live" Contest
Venus Mars Project will join 16 other bands from across New England to perform in Mohegan Sun's "Local Live" contest! We will be playing with a FULL BAND at the famous Wolf Den in the Mohegan Sun Casino on Wednesday, November 11th @ 8:35pm!
We would love to have you come to the show to see us live, but even if you can't come in person, you can still help us by voting via text message on the night of the show to make the final round. Only the top 4 bands will qualify, so every vote counts!
All you need to do is vote for Venus Mars Project via TXT on your phone between 8:30pm-11pm on Wednesday, November 11.
AND you can vote for us a maximum of 5 times!
INSTRUCTIONS FOR VOTING:
Voting will run between 8:30pm-11pm ONLY on Wednesday, November 11th
Number to Text = 23000
Code to Text = VOTE10 (no space)
If your text vote is successful, you will receive a return text saying "Thank you for voting for VENUS MARS PROJECT at Locals Live 2015!"
You are allowed a maximum of 5 Votes per phone.
---
BACKING BAND:
We are excited to welcome our guest backing band featuring the talents of the following musicians:
Drums – Jonathan Ulman
Bass – Matthew Girard
Keyboard/Synths – 

Derek Dupuis

Rhythm Guitar – KC Tentindo
See our official invite here:
https://www.facebook.com/events/711881888945118/